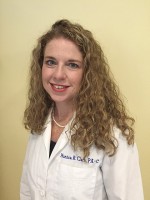 Monica Clark, PA-C joined Dr. Schmidt's practice in March 2016 with more than 10 years of clinical practice experience. She will provide collaborative care for both new and existing patients along with Dr. Schmidt.  Ms. Clark is passionate about preventive care and helping patients to achieve their healthcare goals. She enjoys getting to know patients and their families and providing comprehensive and individualized care.
Prior to joining the practice, Ms. Clark worked for an internist in Middletown, NJ, as well as an internal medicine practice in Fairfax, VA. She was a Parker Family Health Center volunteer from 2008-2013 where she first met Dr. Schmidt.
Ms. Clark completed the Physician Assistant program and earned a Master of Science degree at George Washington University. She earned a Bachelor of Art degree in Biology from the College of The Holy Cross in Worcester, MA and then served six years as a Naval Officer. She has admitting privileges at Jersey Shore University Medical Center (JSUMC) in Neptune, NJ. Ms. Clark is the mother of two sons.